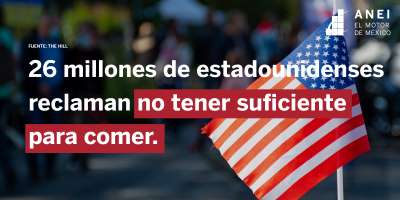 26M Americans now say they don't have enough to eat
The number of Americans reporting not having enough to eat has hit an all-time high since the beginning of the coronavirus pandemic, according to data from the U.S. Census Bureau.
The data indicate nearly 26 million adults do not have enough food. Among households with children, the number was as high as 1 in 6 adults.
Houston, where images of thousands of cars waiting for food aid went viral, has been the epicenter of the increase in food insecurity. More than 20 percent of adults in the city of 7 million people reported going hungry, including 30 percent of adults in households with children.  
Federal aid and augmented employment benefits, as well as the initial reopening of businesses, helped the situation somewhat, but most of the federal aid has now been spent and up to 12 million workers will lose enhanced unemployment unless Congress acts by the end of the year. Children in particular have lost access to free or reduced-price meals with most schools closed for in-person learning for the bulk of the year.
Those working to stem the hunger crisis worry that the surface indicators of an economic rebound may obscure the crisis.
"The hardship is incredibly widespread. Large parts of America are saying, 'I couldn't afford food for my family,' " Stacy Dean of the Center on Budget and Policy Priorities told The Washington Post. "It's disappointing this hasn't broken through."
In Loudoun County, Va., one of the wealthiest counties in the nation, the group Loudoun Hunger Relief reported it provided food aid to 887 households in a week, an all-time high and about three times the normal amount.
Black Americans, who are disproportionately affected by the virus, are some of the hardest-hit by the pandemic's effect on food insecurity. About 22 percent of Black households, nearly double the national average and 2.5 times the rate of white households, said they had gone hungry over the last week.
Fuente: https://thehill.com/policy/healthcare/527560-26-million-americans-now-say-they-dont-have-enough-to-eat